Our meat comes from regional agriculture!
In the Naturverbund we pay attention to animal welfare and
natural feeding of the animals on our carefully selected regional farms.
We live sustainability and ensure every day that you can enjoy the best quality meat – wherever you want.
Nature association – fair. Consistent. Regional.

These are the cornerstones of what we do.
---
Our farmers
We explain who we are and what I do. That is why you can find the names of the members of the Nature Association with full addresses here on the Internet or in our farmers book in stores; completely transparent and comprehensible from the stable to the plate.

We protect the climate. Because the circular economy of NATURVERBUND farmers binds large amounts of CO2 in the arable soils, according to estimates up to approx. 72t per hectare of arable land *.

* own projections on a scientific basis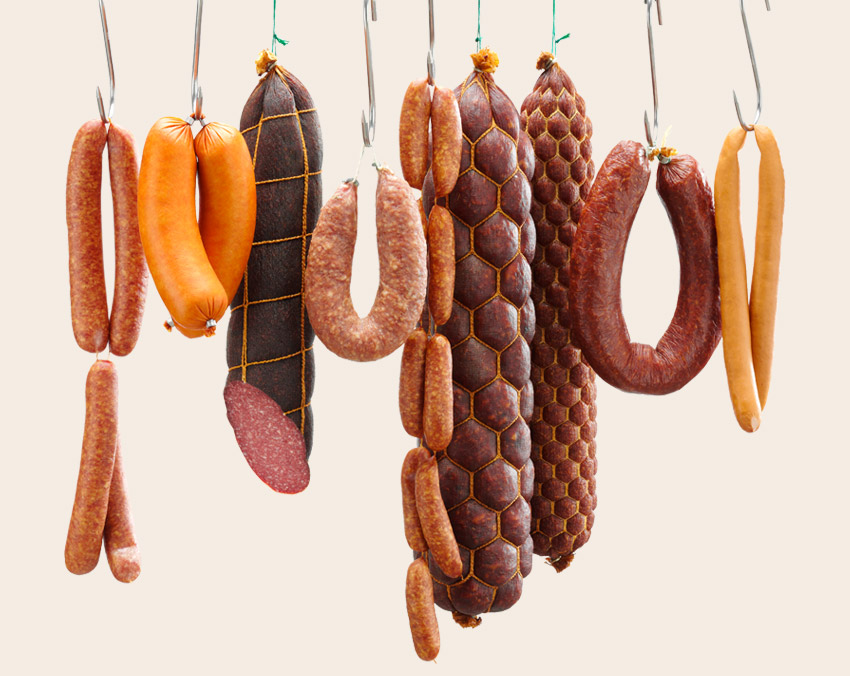 Our
homemade sausages
We market the whole animal. Our master butcher Hans-Dieter Meertz produces fine sausage products every day, which the customers of our butcher partners, canteens in companies / training centers, organic supermarkets, delicatessen and other grocery stores enjoy. more on the subject
---
The Natur Association
Since 1988 the Thönes Nature association has guaranteed very animal-friendly and environmentally friendly animal keeping, very humane slaughtering, fair prices for farmers and fair wages for employees. Our naturally produced meat tastes so good, because we let nature put the flavor in and because people can feel good about enjoying it. And this is not simply a matter of course. You can find out just how good it tastes at select butcher shops and our partners in grocery retail and food service. Our farmers and butchers aren't suppliers and customers of ours in the traditional sense, but rather our partners for ensuring top quality. Ask about how exactly we do all this differently from our competitors and visit us in the Lower Rhine cultural landscape in Western Germany or the Müritz lake landscape near the gates of Berlin in Eastern Germany.
Our service profile:
Slaughtering, butchering and processing of cattle, pigs, calves,
lambs and fowl incl. water fowl (duck and geese) raised under very animal-friendly and organic conditions in accordance with our unique agricultural quality management
Our product profile:
Fresh meat (beef, pork, veal, lamb, chicken, turkey, duck, goose) and frozen meat; sausage products (boiled sausage and cooked sausage, uncooked sausage and ham);
preserved goods (boiled and cooked sausage, meat stock)
Our 2 meat standards:
Natural meat of high animal welfare
Organic Meatof high animal welfare
1. Thönes Natural Meat means "More":
Very animal-friendly animal keeping since 1988
Family-run farms
No preventative antibiotics, no growth promoters
GMO-free feed
Short regional transport distances to our slaughterhouse
Transparent origin labeling
Humane slaughtering and no piecework labor
Fair conditions and transparency within the association
from the farmer to the slaughterhouse to the butcher shop
2. Thönes Organic Meat means "More":
The minimal standard for controlled organic agriculture means:
Animal-friendly animal keeping with the freedom to roam about
No preventative antibiotics, no growth promoters
Organically produced feed
No use of chemically synthetic pesticides
No mineral nitrogen fertilizers
Diverse crop rotation
GMO-free feed
No irradiation of organic foods
Neutral controls
Thönes organic meat also means:
Very animal-friendly animal keeping since 1988
Family-run farms
Short regional transport distances to our slaughterhouse
Transparent origin labeling
Humane slaughtering and no piecework labor
Fair conditions and transparency within the association
from the farmer to the slaughterhouse to the butcher shop
head quarter:
Thönes Natur-Verbund
Loeweg 15,
D-47669 Wachtendonk / Germany
Tel.: +49 28 36 – 91 40-0
Fax: +49 28 36 – 91 40 40
Email info(at)naturverbund.de
www.naturverbund.de
---
We live sustainability